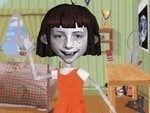 Anna is the unsurprising opposite of
Angela Anaconda
.
Characteristics
Edit
Has an uncreative imagination.
Is a friend of Nanette Manoir
Dislikes anyone Angela likes except for Gordy Rhinehart, because Angela doesn't strongly like Gordy.
Never calls Gordy names.
Never calls Nanette names.
Watches all the shows Angela finds babyish and things like that.
Isn't named after a snake.
Ad blocker interference detected!
Wikia is a free-to-use site that makes money from advertising. We have a modified experience for viewers using ad blockers

Wikia is not accessible if you've made further modifications. Remove the custom ad blocker rule(s) and the page will load as expected.