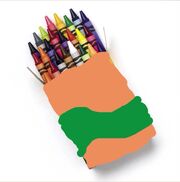 Emma Rhinehart makes Gordy finish his maths homework so that he'll have it done in time for the upcoming Timothy & His Railway Company movies, so he does. Unfortunately, Angela Anaconda finds him, teases him by calling him a nerd and goes inside to hunt for Gordy's 'nerdy' property and laugh about it. She finds a rack of Timothy & His Railway Company DVDs and, though she knows Gordy watches the show, bursts outside to call him babyish. Gordy is very embarrassed and has to tell his mum what Angela is doing. Emma kisses and pats Gordy and tell him to 'show Angela the power of the number by doing maths'. Then, Gordy tells Emma that Angela knows he is doing maths and is saying he's a nerd for it. Then, Gordy saw Angela going to his room. Before Gordy could get in, Angela came out with Gordy's crayon box and refers to drawing as a 'baby game'. Emma then tells Angela about Matilda, a slim 20 year old who works at the mall and likes to draw. Then, Gordy reads the time and notices that the movies are in 5 minutes so he just completes his maths without listening to Angela. Emma doesn't want Angela to think of herself like she's a 'naughty little girl', so she brings Angela some gifts.
Ad blocker interference detected!
Wikia is a free-to-use site that makes money from advertising. We have a modified experience for viewers using ad blockers

Wikia is not accessible if you've made further modifications. Remove the custom ad blocker rule(s) and the page will load as expected.