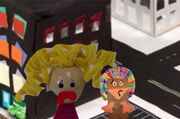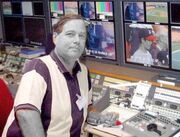 It was a good morning in Tapwater Springs and Gordy was washing his vest while his mum, Emma, polished his lace-up shoes. Gordy was waiting for
Timothy & His Railway Company
to com on, but instead he heard about this bad n show called
Crafty-City
. Then, Candy May came along to ask what was wrong. Then she realised it was the TV. Gordy ran upstairs to Emma and asked if Candy could have a play date. It was agreed. Fabio, Gordy's groomed dog, left a green-and-blue chew toy on a building block. The building block turned out to be a button (the press-able type) and Candy and Gordy ended up in fighter jets that were about to let out bullets. The two kids decided to fly to the office of the creator of the show. Gordy was telling Candy not to be abusive-ish to the creator. The creator loved Gordy and let him do the 18th season of the show. Gordy decided to rename it, have the characters not made out of garbage, and hire different voice actors. Emma and Coach were very proud of Gordy's creativity.
Characters
Edit
And More!
Sam Rhinehart is too young for school, but made a cameo getting off a school bus and into Tapwater Springs School.
Ad blocker interference detected!
Wikia is a free-to-use site that makes money from advertising. We have a modified experience for viewers using ad blockers

Wikia is not accessible if you've made further modifications. Remove the custom ad blocker rule(s) and the page will load as expected.